Administration News from Glen:
Kim Reaman circulated a draft copy of the Extension Strategic Plan last week. If you didn't receive the email, please get back to Kim or to me and we will send it to you. As discussed previously, this draft was prepared by the Extension Administrative Team based on guidelines for the 2017-2022 strategic planning process and the 2014-2020 academic planning work. We are asking for your review and comment by November 13th. The plan will then be revised/rewritten based on the input and comment received and circulated again for review. As for deadlines, a draft of the plan is needed by late November and the final plan is expected by the end of the year. Please have a look at the draft plan and provide your insights, comments, and input to Kim or myself.
We are a little over a month away from the start of the Connecting Extension to Research Conference (CERC). In case you have missed the conversation, CERC is a combined Agricultural Experiment Station/Extension conference bringing the two groups and cultures together. Anyone on or off campus with an extension or a research appointment should attend. The registration can be accessed on the Extension Employee Resources site. https://wyoextension.org/employee_resources/
Registration closes November 3rd so get on it today. I look forward to seeing you all there.
Kim shared with me that the contact reporting we just completed for the last fiscal year went smoothly. Thank you for your effort and patience to complete your contact and accomplishments reports. They are important to our success.
Regards, Glen
Cent$ible Nutrition Program News From Mindy:
We completed our second initial training in Laramie, the week of October 23rd. The educators who attended were: Beth Chapell, Diane Davis, Lindsay Hadfield, Kelsi Goldfarb, Lori Dickinson, Shelley Balls, and Abby Rux. It was a great week with a lot of learning and sharing. Linda Melcher taught about Creating Meaningful Conversation, helping educators to become better recruiters and communicators. Thank you to our veteran educators; Kristy Michaels, Wendy Nielsen, Mary Evans, and Beth Barker for sharing their expertise and knowledge with our new educators. Kim Reaman provided Civil Rights training to round out the week.
We are wrapping up our year-end reporting and impact statements. We are also working on interviewing and hiring for the CNP Office Associate position at the state office and the CNP Assistant position on the WRIR.
Sandra and Megan will be attending the American Public Health Association Conference in Atlanta the week of November 5th. This is the first time someone from CNP has attended this conference and we are excited to get ideas for policy, system, and environmental interventions that we can be adopt in Wyoming.
We appreciate everyone's patience and help with transitioning to the WyoCloud Financial System. We know this has been an arduous process with more trials to come.
As we move into our new grant year, our FFY2018 focused objectives are to: increase fruit and vegetable intake, decrease sodium, saturated fats and added sugars (SoFAs), increase fiber, physical activity, and money saved on food.  The PSEs we are focusing on are Marty Moose classroom and school environmental changes, increase in SNAP-Ed graduates through Department of Family Services referrals, and increasing access to fruits and vegetables for low-income families through farmers' markets, community gardens, local foods, and food pantries. We are excited to be partnering with the Wyoming Department of Health on bringing playground stencils to schools and early childcare centers to increase physical activity in youth.
Here's to a healthier Wyoming,
Mindy
Miscellaneous from Mary Kay:
2017-2018 Selected Projects
The John P. Ellbogen Foundation Wyoming Communities, Agriculture and Rural Living Project Fund is focusing on improving Wyoming communities, agriculture, and rural living. The mission of University of Wyoming Extension is to provide lifelong learning opportunities for people of Wyoming and empower them to make choices that enhance their quality of life.  Funding for this program is from the John P. Ellbogen Foundation through an endowment agreement with University of Wyoming Foundation and UW Extension.
Discover Native Plants
Leadership
Bobbie Holder, Park County Horticulturalist
Kristina Hufford, Extension Specialist, Ecosystem Science and Management, UWCANR
Mae Smith, Director of Agriculture, Sheridan College
Congratulations Bobbie, Kristina, and Mae for identifying and acting on a community need. Discover Native Plants will help Wyoming citizens interested in developing skills to identify native and non-native plants. Discover Native Plants has a few goals over the next two years with this funding. They will offer three workshops per year, assess new directions for meeting participants' needs, and encourage skills useful for land management at home and on the job. With these goals in mind, workshops will be offered in Park, Big Horn, and Sheridan Counties. Workshops will include discussions of native plants, plant walks, and plant identification skills. The participants will learn plant anatomy and basic grass taxonomic skills.
Real Kids, Real Fun, Real Foods
Leadership
Julie Balzan, Southeast area Nutrition and Food Safety Educator, located in Platte County
Mary Evans, Platte County Cent$ible Nutrition Educator
Marilyn McKinley, Platte County Administrative Assist/Office Manager
Real Kids, Real Fun, Real Foods focuses on helping children learn skills for preparing whole foods, reading recipes, keeping food safe, and family mealtime. Research has documented benefits for children and parents eating meals together; including improved family connections and decreased likelihood of tobacco, marijuana, and alcohol use. This program will target children in Platte County the first year, then reaching out to other communities. Congratulations Julie, Mary, and Marilyn in getting this grant funding to promote family meals and provide children with the basics of food preparation and food safety.
LIFT
Leadership
Laura Balis, Northwest Area Nutrition and Food Safety Educator, located in Fremont County Extension Office
Julie Balzan, Southeast Area Nutrition and Food Safety Educator, located in Platte County
Congratulations to Laura and Julie for obtaining funding for LIFT: Lifelong Improvements through Fitness Together. The objectives of LIFT are to improve health outcomes and wellbeing of older adults and to determine the adoption, implementation, and maintenance of LIFT. LIFT participants will improve functional fitness, physical activity levels, and social networks. This program targets adults 65 years and older in rural areas of Wyoming, however, any one can participate! Wyoming will join the other Extension systems in 15 states who have implemented one or more adult physical activity programs!
 Staff Development/Federal Relations News from Kim:
Professional Development News:
CERC (Connecting Extension and Research Conference), December 12-14, 2017, UW Conference Center and LREC in Laramie
Remember to register for CERC by 5 pm on November 3rd .  
Double occupancy lodging will be provided on Tuesday, December 12 and Wednesday, December 13th. Please remember to identify a roommate when you register for the conference. You can also ask to be assigned a roommate.
Current professional photos are important for Extension web sites and news releases. If it's been a while since you've had a professional photo taken, or you just don't like the one you have, Steve and Tanya in C&T will be available to take a new photo for you during CERC. More information about this photo opportunity will be communicated closer to CERC.
Specific details about CERC and registration can be accessed from the Employee Resource Website.
Thanks to the CERC planning committee: John Tanaka, Mary Kay Wardlaw, Megan McGuffey Skinner, Laura Balis, Doug Zalesky, Kellie Chichester, Brian Mealor, David Keto and Joanne Newcomb!
Civil Rights Tip:
The upcoming holiday season is a good time to consider greetings, phrases and pictures used in print and digital media. We often intend to send a message through the greetings, phrases and pictures we select to include, but what about the subtle hidden messages that may be communicated as well? For example, what message is communicated when the words say "Happy Holidays" but the picture includes a Christmas Tree with an angle on top?
Personnel News: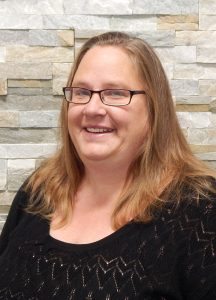 Congratulations to Kristi Nagy! Kristi will begin as the 4-H Military Youth Development Educator beginning November 13, 2017. In her current position as the 4-H Office Assistant Sr. in the Laramie County Extension Office, Kristi has had an active role in the Laramie County 4-H program over the last three years. This experience gives her the knowledge and confidence to take on a new challenge within the Extension program. Kristi also brings 10 years of experience with the YMCA of Metropolitan Denver where she managed eight school-age child care sites. Kristi earned a Bachelor of Science degree in Business Administration from the University of Phoenix and an Associates in Early Childhood Education from Northeastern Jr. College in Sterling, Colorado. Kristi can be reached at knagy@uwyo.edu or (307) 633-4385. Please help me congratulate Kristi in her new role with UW Extension.
ESP Article from Cole Ehmke
What is ESP?
Epsilon Sigma Phi is the national association for all Extension professionals and administrators and is the largest professional Extension organization. Since we're not tied to any specific discipline, ESP has members from all the programming areas. Our aims are to generally to welcome and support new Extension employees and help people develop in their careers.
In Wyoming, the folks in our ESP organization are very much focused on sharing, growing, and interacting with the "best in Extension." You probably have seen our occasional professional development offerings, and you'll see us at the mixer we're organizing to kick off CERC in Laramie next month.
To people considering ESP as a member, there are opportunities to interact locally, regionally and nationally which can help build an ET&P packet and develop skills. To help improve the Extension organization and the Extension professional, we
Hold a national conference every year (the next is Sept 30 to Oct 3, 2018 in Manhattan, Kansas)
Stipends to present at workshops, poster presentations and serve on national committees at ESP Conferences.
Provide leadership opportunities in the form of offices at the state, western region, and national levels, and for service committees.
Recognition awards for notable programming at the state and national level.
Have a professional development fund which supports projects.
Scholarships to the excellent Public Issues Leadership Development Conference (PILD). The next is April 8-11, 2018 in Arlington, Virginia with the theme of "Cultivating a Climate of Civil Dialogue". PILD has participants from all the major organizations: ANREP, ESP, NAE4-HA, NACAA, NEAFCS, NACDEP and NAEPSDP.
Drop by our annual meeting – it will be on Tuesday, December 12th, 5:15 to 6:15 pm (prior to the mixer at 6:30). Come be a part of a growing organization that is willing to reach out to help you learn, share, and grow. Membership is open to those who have been employed for a year or more and who have an assignment of 50% or more of time devoted to Extension work. Contact the chairman Scott Cotton (307)235-9400 or Scotton1@uwyo.edu.
 

*Save the Dates*
All UWE Personnel are invited and encouraged to participate in two Zoom meetings:
Tuesday, November 7th 2:00 pm – 3:00 pm – UWE Department meeting with Dean Frank Galey.
Wednesday, December 6th 10:00 -11:00 – UWE Department meeting with Provost Kate Miller.
These meetings are designed to give updates to administration and allow time for Q&A from UWE personnel. Mark your calendars and plan to join us. Ann Roberson will send out Zoom links closer to the date of the meetings.
Lincoln County, 4-H Youth Development Educator – Position #4205, based in Kemmerer. This is a non-extended term position. Responsibilities include management and oversight of the South Lincoln County Arena. Screening is complete and interviews will be held November 10, 2017.
Sheridan County, 4-H Youth Development Educator – Position #0191, based in Sheridan. This is a non-extended term position. Screening will begin November 17, 2017.
Laramie County, Office Assistant, Senior – Position #4575, based in Cheyenne. This is a UW staff position. Screening will begin November 12, 2017.