Administration News from Glen:
I'm marking today October 2nd, as the first day of winter. It's been snowing all morning and we have several inches of soft, wet snow on the ground. Well,……… maybe the first day of fall. This is Wyoming after all!
I have a brief follow-up for you on the Engagement Task Force. Early in September The Agricultural Experiment Station and UW Extension leadership met with the Engagement Task Force to provide an overview of Experiment Station and Extension and discuss what we would identify to be the key factors in our 100+ years of successfully engaging Wyoming people and communities. The presentations went well and the conversation that followed was very positive. AES and UWE were the first engagement focused organizations invited to present to the task force. I think we got them off to a good start in their task of learning about UW's off-campus activities and engagement.
The task force is planning a series of stakeholder input focus groups around the state in January and February. I have been asked to serve as a member of the task force committee that will organize the statewide focus groups. I am very hopeful that the lessons learned in these stakeholder focus groups will be useful to us in Extension as we work to expand our efficacy and impact.
By all measures we had a wonderful ESCAPE conference in Cheyenne. I want to offer my personal thanks to the staff and educators in our Laramie County office. They hosted the conference in their office/building on the Laramie County Community College campus and carried a big part of the organizational load. Also, many thanks to the ESCAPE planning committee and to the Southeast Area Educators who hosted a dinner for the group. And thanks to all who set aside their work and responsibilities at home to travel and participate.
Safe Travels, Glen
Miscellaneous from Mary Kay:
The 2017 ESCAPE conference: Blaze Your Own Trail is in the history books. The conference, which was held in Cheyenne, was outstanding with a good variety of educational sessions and a good bit of laughter! Congratulations to Donna Nelson from Johnson County who was awarded with the UW Extension Administrative Professional of the Year award. A special thank you to the planning committee and in particular, our hosts Kristi Nagy and Tracy Navarro.
As part of the keynote, Mary Kay collected input from educators on what they appreciate about their administrative professional. A word cloud was created from the results and put into the shape of the conference logo.
Thank you to each of you for the important work you do every day to maintain the success of UWE.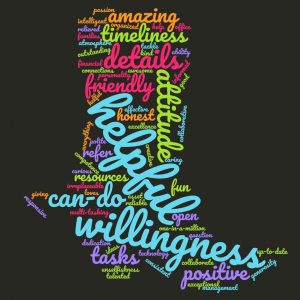 Staff Development/Federal Relations News from Kim:
Reporting Tips:
Thanks to everyone who has already entered their contacts in the UW Extension On-line Reporting System. We have captured nearly everyone! If you have not already done so, please make every effort to enter your data by Friday, October 6th. Please remember to save your contact reports as a PDF and e-mail them to Cathy Shuster.
The contact numbers you provide are used in a variety of ways to demonstrate the reach of UW Extension programs.
They are shared with the University of Wyoming Administration and are distributed to various decision makers through UW.
They justify the funding to our federal, state and local partners and stakeholders.
They allow us to quickly respond to requests from county commissioners when they want to know how many people the Extension program in their county reaches.
They meet our obligation to demonstrate diversity through our civil rights efforts.
This year, they will also be used to establish our baseline measure for key indicators of success in the UW Extension Strategic Plan of Work.
Impact statements are also used to help justify the funding Extension receives from our federal, state, and local partners. Impacts you share through your individual impact statements, as well as in your annual summary matrix, are compiled in the accomplishment report submitted annually to NIFA. They are also used to write the annual report which is distributed to county commissioners, state and federal legislators, UW Administration, and other stakeholders. It's your impact statements that tell the success story of Extension and demonstrate the difference Extension programs make in the lives of our clientele.
Impact statements are due November 1st. Please remember to e-mail a copy of your impact statement to your supervisor AND Cathy Shuster.
Professional Development News:
CERC, (Connecting Extension and Research Conference) is December 12-14 at the UW Conference Center and Hilton Garden Inn in Laramie. Thank you to the planning committee who has worked hard to develop a conference that will provide opportunities to meet and network with colleagues in Extension and AES, learn how collaboration for new programs can be successful, and celebrate the achievements of our colleagues in both organizations.
We received 24 proposals for workshops and posters! Thank you to everyone who submitted a proposal. The committee will review them this week and communicate results of the selection process by October 9th.
The conference will kick off on December 12, 1:00 pm with the keynote speaker, Dr. Vincent Kituku. Dr. Kituku completed both his Masters and Doctorate at the University of Wyoming and is very excited to return to Laramie and present at our conference. If you would like to learn more about Dr. Kituku, you can check out his website: http://kituku.com/index.html
Time has also been set aside for Professional Association meetings during CERC:
ESP will meet on Tuesday, December 12th, 5:15 to 6:15 pm (dinner and mixers at 6:30 pm)
WACDEP, WACAA, WEAFCS, WAE4-HA, and the AES Business meeting will be on Wednesday, December 13th, 4:45 to 6:00 pm (Awards Dinner at 6:30 pm)
Award Presentations have been scheduled throughout the conference. Each association will be provided 10 minutes to recognize their award recipients. It can be a live presentation or a recorded presentation.
WACDEP – Tuesday, around 3 pm (just before the afternoon break)
ESP and AES Staff Awards – during the Mixers Tuesday evening
WACAA – Wednesday, around 9:30 am (just before the morning break)
WEAFCS – Wednesday, around 11:30 am (just before breaking for lunch)
UWEX, CNP and AES – Wednesday during Awards Programs (after dinner)
WAE4-HA – Thursday, around 10:15 am (just before morning break at LREC)
An e-mail to the All-CES list serve will be distributed when registration for CERC opens later this month. Registration will close November 3rd. Please remember you will be asked to indicate whom you would like to share a room with during the conference so you may want to be ready to provide that information. Of course, you can always say, "It's okay to assign me a roommate!".
Civil Rights Tip:
Remember ADA is part of civil rights. When advertising public programs it's important to let the public know Extension provides accommodations if needed. Examples follow:
If you need assistance to participate in this program, please contact [name, phone number or TDD, e-mail] at least three days prior to the program.
Program materials may be available in other formats. Please let us know at least wo weeks in advance by contacting [name, phone number or TDD, e-mail].
Program materials (or informative brochures on this subject) are available on our website at [URL].
Algunos materiales son disponible en espańol (some materials are available in Spanish)
Cent$ible Nutrition Program News from Mindy:
The Cent$ible Nutrition Program is happy to welcome three new employees to our team. Lori Dickinson joined the Sheridan County office as the new CNP Assistant. Her first day was August 14th. Lindsay Hadfield joined the CNP state staff as a full time employee to produce videos for our new curriculum and videotape recipes from the CNP cookbook. Abby Rux will be joining the Albany County Extension team as the new CNP Assistant. Abby's first day will be October 2nd.
We had a great initial training in Casper with our educators. Some were brand new, while others have been with us for a while. Those that attended training are Kelsi Goldfarb, Shelley Balls, Lori Dickinson, Lindsay Hadfield, and Diane Davis. The focus was on teaching the adult curriculum, preparing recipes from the cookbook and learning program guidelines and policies. Thanks to all our veteran educators who helped with the training.
We will be conducting the second in-person initial training the week of October 23rd in Laramie. The educators will be learning more about reporting, recruiting, and the youth curriculum.
Our new grant year starts on October 1st. We will be implementing a new Food and Physical Activity Questionnaire in our WebNEERS reporting system. We continue to track policy, systems, and environmental changes and will be using the PEARS system to report on our PSEs, partnerships and program reach in the new grant year.
We currently have a CNP Assistant position open on the WRIR. If you know anyone who is interested, please let them know to apply at http://www.uwyo.edu/hr/prospective/index.html .
Here's to another new grant year!
Cheers!
Mindy
 *Save the Dates*
All UWE Personnel are invited and encouraged to participate in two Zoom meetings:
Tuesday, November 7th 2:00 pm – 3:00 pm – UWE Department meeting with Dean Frank Galey.
Wednesday, December 6th 10:00 -11:00 – UWE Department meeting with Provost Kate Miller.
These meetings are designed to give updates to administration and allow time for Q&A from UWE personnel. Mark your calendars and plan to join us. Ann Roberson will send out Zoom links closer to the date of the meetings.
Personnel News
Welcome to our new UWE administrative professionals:  Natasha Charlson in the Crook County Extension office and Treasure Boller in the Campbell County Extension office. These ladies are off to a great start!
Welcome to Amy Larsen! Amy started as the State Events Coordinator in the State 4-H Office last month.  Amy has 17 years of experience working with youth and young adults ministry in the Catholic Church including planning retreats, conferences, fundraisers and events every year to engage the participants in experiences at a local, regional, national and international level. She also completed her college internship at Walt Disney World which gave her experience coordinating events for families of the cast members. Amy shares her thoughts on the best strategy to market events "There is great asset in social media and electronic communications, however it is the personal invitation, whether from the State or County 4-H offices, past participants or current 4- H members, that successfully markets events. It is in the sharing of our personal experience that we can engage and inspire others to join us." In her free time, she likes being outdoors and active. Born and raised in Rock Springs, she is proud to be a 4th generation Wyoming native and a 3rd generation graduate of the University of Wyoming!  Amy can be reached at 307-766-5170 or alarsen@uwyo.edu. Reach out and say "Hello"!
 
REMINDER…The new time sheet that everyone will be using is linked below with some new explanations. Please note after you add your electronic signature (and your local supervisor if appropriate), send directly to Ann Roberson for associate directors' approval. Ann will then send on to the Ag Business Office. Cool Trick: By typing the month followed by a comma and the year, the file will automatically populate the daily calendar within the time sheet.
UWE-Time-Sheet-Instructions (3)
Laramie County, 4-H Youth Development Educator – Position #4977, based in Cheyenne. This is a non-extended term position with a focus on non-traditional programming. The position will split time between working with the military 4-H program and 4-H Youth Development in Laramie County.  This benefitted position is currently .75 FTE with the potential of full-time pending renewal of grant funding. Screening is complete and interviews will be held October 5, 2017.
Lincoln County, 4-H Youth Development Educator – Position #4205, based in Kemmerer. This is a non-extended term position. Responsibilities include management and oversight of the South Lincoln County Arena. Screening will begin October 13, 2017.
Positions anticipated to open soon:
Assistant University Extension Educator, extended term track Agriculture and Natural resources, and 4-H Youth Development –Position #4453, based on the Wind River Indian Reservation, Ethete, Wyoming.
Platte County, 4-H Youth Development Educator – Position #0245, based in Wheatland. This is a non-extended term position.
Sheridan County, 4-H Youth Development Educator – Position #0191, based in Sheridan. This is a non-extended term position.