Administration News from Glen:
One of the clear challenges President Nichols has given all of us with the University is to help recruit more students to UW. Our State 4-H Office, working with UW Admissions and our county based 4-H educators, has been working on a new community-based recruiting activity called "Signing Days". Following the concept of signing days in NCAA sports, the "Signing Day" is a UW event organized in the students' community whereby those who have been accepted to UW are invited to be honored and sign-on-the-line to attend UW. This is the second year for the event. I understand that the first-year effort was judged to be a success with an opportunity for growth. Many of our 4-H Youth Development Educators have been at the center of organizing these events and thus are well aware. I thought perhaps the rest of us should learn more about this effort so I decided to highlight it here. I also believe that it is important we all support this effort in any way we can. Being present at the Signing Day event and engaged with the students and parents in our own communities is one way we can each show our interest and support for the University's incoming students and the University's efforts to attract them to UW. So…I offer this challenge to our county-based educators and specialists: Attend the Signing Day event in your community; wearing your name tag and engaging the honored students and their families.  The schedule for the Signing Days across the state is contained here  http://www.uwyo.edu/uwe/signingday/.  The events are not yet all scheduled so keep looking. As I understand the events will be scheduled from late April through early May. If you have a question, please contact Kelly Crane, Mary Kay Wardlaw, Johnathan Despain, me, or the 4-H Youth Development Educator in your county. We will do our best to answer your questions.
And another matter…You may know that my wife and I have been making preparations for retirement for the last year or so. If you feel this announcement is coming a little late, I apologize, but here it is. I will step away from my duties as Director of UW Extension at the end of April, 2018. I expect to be able to provide some assistance and support for Dean Galey and UW Extension leadership through the end of June. Working with all of you in UW Extension has been a wonderful experience for me and the highlight of my career in the academy.  Wyoming and its University have been my home and my passion for the last 33 years. I will miss all of you, my department and the College, and I will miss the state and its people. I wish you all the very best.
Highest Regards, Glen
Staff Development/Federal Relations News from Kim:
I'm pleased to announce Shaily Harshbar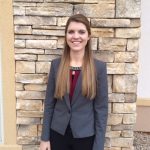 ger started as the 4-H Youth Development Educator in Lincoln County on January 8, 2018. Shaily is located in the Lincoln County Extension Office in Kemmerer. A 2017 graduate of Kansas State University, Shaily holds a Bachelor's degree in Animal Science with an emphasis in Business and a Minor in Business. She has been involved in both 4-H and FFA programs where she participated in livestock, dairy, and horse judging in addition to a variety of leadership roles. In 2016, Shaily interned with the University of Wyoming Extension 4-H program in Lincoln County and is happy to be returning to Kemmerer. Shaily's e-mail address is sharshba@uwyo.edu. Please help me welcome Shaily to the UWE 4-H program!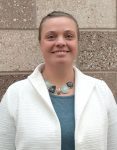 Amanda Hitshew-Small will begin March 30th as the Natural Resources/4-H Youth Development Educator on the Wind River Indian Reservation in Fort Washakie. Since 2008 Amanda has worked for the Bureau of Land Management as a Range Land Management Specialist where she contributed to and led several Interdisciplinary Teams in all aspects of rangeland management. Her work with the BLM also included collaboration with the Tribal communities on the Wind River Reservation. Amanda has been an active project leader for 4-H in air rifle, archery, leathercraft, foods and nutrition, photography and Cloverbuds along with livestock projects.  Growing up on the family's farm near Lander, she has been actively involved in agriculture her entire life participating in 4-H and FFA. Amanda's email address is: ahitshew@uwyo.edu  Welcome Amanda!
Cent$ible Nutrition Program News from Mindy:
The Cent$ible Nutrition Program just concluded our annual Spring Fling meeting in Rock Springs last week. This year's training focused on new projects across the state. We had a guest speaker who talked about working with early childhood education centers. Our curriculum committee introduced and trained on the newly revised curriculum for adults, which CNP educators will be piloting this summer. Several of our educators shared their successes with local food PSEs, including several partnerships with SAREC, R&E Centers, and Master Gardeners.
We unveiled the first of many videos to come for our new online cookbook, which will be a new resource for CNP participants in the future. Lastly, we initiated an internal marketing campaign to strengthen the relationship between SNAP and SNAP-Ed/CNP. Overall, it was a successful meeting and we enjoyed the opportunity to reconnect with all of our CNP educators.
March was a busy month for Sandra, Megan, and me. March 19-23, Megan and I returned to Washington, D.C. for the National EFNEP Coordinators Conference. We learned about the new youth evaluation survey and plans for celebrating 50 years of EFNEP, which will take place over the 2019 grant year. During that week, Sandra attended the Mountain Plains Region Evaluation Committee conference in Kansas City. The committee discussed strategies for developing consistent reporting and impacts across the region.
In mid-March, we held interviews for the Project Coordinator, Senior position in Laramie County. The interviews were successful and we look forward to welcoming our new educator later this month.
As we move into April, we are preparing to welcome regional and national guests to Wyoming for our Management Evaluation (ME). The week long ME will take us to several places in the state to highlight our PSEs efforts and direct educator classes.
Thank you to all of our educators for their hard work and dedication to CNP!
Happy Spring!
-Mindy
Personnel News from Ann:
Sheridan County 4-H Youth Development Educator – Position  #0191, based in Sheridan, WY. This is a non-extended term position. Interviews have been held and an announcement will be made soon.
Weston County 4-H Youth Development Educator – Position #0245, based in Newcastle, WY. This is a non-extended term position. Interviews have been held and an announcement will be made soon.
Laramie County 4-H Youth Development Educator – Position #4286, based in Cheyenne, WY.  This is a non-extended term position. The position closed March 29, 2018 and interviews are being scheduled.
Teton County 4-H Youth Development Educator – Position #4440, based in Jackson, WY. This is a non-extended term position. The position has been extended through April 30, 2018. – Help us get the word out!!
Sublette County 4-H Youth Development Educator – Position #5376, based in Sublette, WY.  This is a non-extended term position. The position closes May 11, 2018.
For position announcements and application instructions see http://www.uwyo.edu/uwe/jobs/index.html
Welcome to our new administrative professionals! Sabrina Philpott has joined the Big Horn County Extension Office and Michaela Lay has joined the Goshen County Extension Office. We extend a warm welcome to both.