Administration News from Kelly & Mary Kay:
As of June 13, 2018, the University of Wyoming Trustees approved the Leadership Transition Team for the College of Agriculture and Natural Resources. The organizational chart is attached and, unless otherwise noted, will be in effect starting July 1, 2018.
One of the benefits of collaborative leadership with AES and UWE in this interim period is that we can explore ways to find efficiencies and strengthen our partnerships. Overall, we want to elevate engagement of UWE, AES and CoANR at UW and statewide. Our team will consider the recommendations of the UW Engagement Task Force, UWE Strategic Plan, AES Strategic Plan, and the CoANR Strategic Plan.
We are excited for the challenges ahead and, with your support, can provide leadership and direction for UWE. We have been well tutored and counseled through our work with Glen.
Although Glen's position may not be filled on an interim basis, we are confident we can keep Extension viable and relevant to the people of Wyoming. What can you do? Here are a few ideas
Identify University of Wyoming employees working in your community. Set up a meeting and learn what services they provide, share what you do, and look for ways you can support each other.
Keep an open mind. We may be piloting some different approaches as we explore opportunities.
Take time to promote your successes and impacts locally. We do not want to be the "best kept secret" and our communities need to know more about what we do.
We both enjoy our time out in the State interacting with you and your clientele. Our travels may be reduced in the short term. If there is something you need or an event we should participate in, please let us know.
During the time of rapid change, we will establish regular all-extension meetings via zoom. We will set up a schedule for times to provide updates and answer questions. These will be recorded and we hope to start these in July.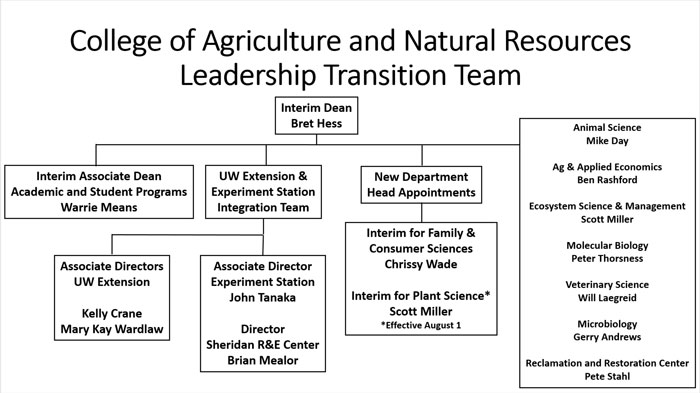 Thank you.
Kelly & Mary Kay
4-H Initiative Team Change
We have modified the 4-H Initiative Team membership and functions based on recommendations from the 4-H Working Group. The team is no longer made up of all the 4-H Educators across the state. The team is now the State 4-H Office under the direction of Program Coordinator Johnathan Despain. Mary Kay Wardlaw will serve as liaison to this team. Budget allocations for the Initiative Team are moved to the 4-H office to fund statewide work and working groups. The state office will establish working groups based on program priorities.
The 4-H Initiative Team will engage with area teams to garner feedback and input to policy, program delivery, and program priorities.
The 4-H Educators will continue to gather for area and statewide trainings. Regular zoom meetings will continue.
In other news…
Michelle Pierce is now the Campbell County Coordinator as of May 1st.
Dawn Sanchez position has changed to activities support for the State 4-H Office.
Staff Development/Federal Relations News from Kim:
Welcome New Employees:
Brittany Hamilton, 4-H Youth Development Educator, Weston County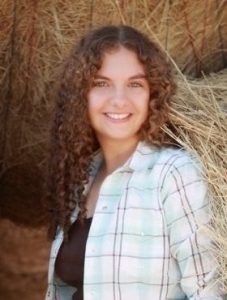 Adventure seeker, rancher, outdoor enthusiast, music lover, faith-bound. That's me! My name is Brittany Hamilton, and I come from the small town of Osage, Wyoming where I grew up working alongside my amazing family on our ranch raising market cattle. In 2015, I graduated from the University of Wyoming with bachelor's degrees in Ag Communications and Animal Science. I have always wanted to be a positive advocate for agriculture and be an informational source for people in different walks of life. Now I am blessed to have that opportunity as I begin my service as a 4-H Educator. Brittany's e-mail address is: bhamilt6@uwyo.edu
Becky Brix, 4-H Youth Development Educator, Laramie County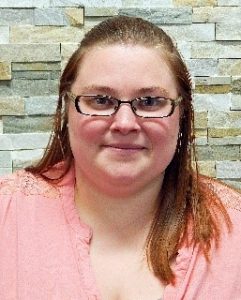 Becky earned a Master's Degree in Agricultural Extension Education from Colorado State University and Bachelor's degree in Agricultural Business from the University of Wyoming. Becky has served in many roles in 4-H including a 10 year member, UW Collegiate 4-H president, volunteer, intern with Albany County and judge. Beyond her 4-H experience, she has a wide variety of community service and work experience that will lend itself well to this position and for future successes including organizing Night to Shine Laramie, serving as the parade chair for Laramie Jubilee Days and being a 15+ year volunteer with Special Olympics. Becky's email address is: bbrix@uwyo.edu
Paul Johnson, Educational Technology information Specialist, Communications and Technology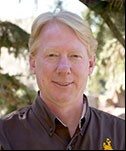 After growing up and living among the cornfields of Illinois, Paul and his family moved to Laramie in 2013 to escape the crushing heat and humidity and damp, awful winters of western Illinois. Paul spent nearly 25 years in the educational publishing field and is the author of 65 books, software products, board games, and other materials used in classrooms and educational therapy settings all over the nation. In his last position in publishing as Editor-in-Chief, Paul led his company's efforts to deliver educational materials online. When his company was sold, he served as project manager and sales consultant in the online learning industry before pursuing his M.A. in Communication at UW and teaching Public Speaking for several semesters as a Graduate Teaching Assistant. His research emphasis was online delivery of communication education. After graduating, Paul worked as an Academic Advising Professional for Academic, Career, and Exploratory Studies on campus and produced materials for the campus-wide online Advising Training Program. Paul has two grown daughters, a son in high school, and an amazing wife. He enjoys reading, cooking, watching old movies, and soaking up the laid-back, low stress vibe of Wyoming.
He looks forward to finding new ways to deliver the excellent material Extension produces to our customers all over the state of Wyoming. You can contact Paul via:  pjohns45@uwyo.edu or call 307-766-3722
John P. Ellbogen Foundation Wyoming Communities, Agriculture, and Rural Living Fund:
I am pleased to share exciting news regarding the John P. Ellbogen Foundation Wyoming Communities, Agriculture, and Rural Living Fund. The Ellbogen Foundation recognized the impact that our projects have had across Wyoming and expressed a desire to do more. As a result the Ellbogen Foundation increased their financial contribution to the John P. Ellbogen Foundation Wyoming Communities, Agriculture, and Rural Living Fund and the endowment is now over $1 million dollars! This increase will support two phases of grant funding:
Phase I is for new grant applications. Between $28,000 and $30,000 will be available to support projects in this funding cycle.
Phase II will be awarded to support the expansion of projects previously awarded.  This year there will be between $12,000 and $14,000 available for Phase II. Any projects which have been completed and have potential to expand their current reach are eligible to apply for Phase II funding.
Please remember any UWE personnel are eligible to apply. The RFP's for both Phase I and Phase II were e-mailed in May. Completed grant applications for the John P. Ellbogen Foundation Wyoming Communities, Agriculture, and Rural Living Fund must be e-mailed to Mary Kay Wardlaw, UW Extension Associate Director, by 5:00 pm on September 1, 2018.
Civil Rights Tips:
Title VI of the Civil Rights Act of 1964 states "No person in the United States shall, on the ground of race, color, or national origin, be excluded from participation in, be denied the benefits of, or be subjected to discrimination under any program or activity receiving Federal financial assistance."  Check out the website for the Office of Diversity, Equity, and Inclusion for UW Diversity Initiatives for more tips about Fairness in Hiring and Programming.
Kim
CentSible Nutrition Program News from Mindy:
I would like to welcome Jenna Tapia as the Coordinator, Senior to the Laramie County Extension office and Cheryl Hackett as a Cent$ible Nutrition Program Assistant to the Natrona County office. Jenna will be providing supervision and coordination for the Laramie County CNP and Cheryl will be working part time to help with summer programming in the Natrona County office.
We also said farewell to two longtime employees – Nan Craft and Cindy Aguilar. Nan retired and moved to Alaska to be closer to her daughter, grandchildren and great grandchildren. Cindy resigned to care for family and has relocated to Oregon. Kristy Michaels will be covering Washakie County for CNP and Marilou Vaughn will be covering Hot Springs County. Livy Lewis and Kelly Pingree will continue to provide programming on the Wind River Indian Reservation.
We survived our management evaluation by our Federal partners from the Mountain Plains Regional Office in April. We had a few findings, which we are in the process of correcting.  The biggest finding was the financial system and the new budget categories in WyoCloud. I have been working with Sponsored Programs to come up with an invoice that contains the information needed to ensure only allowable expenses are charged. Another finding was program fidelity. As we pilot test the adult curriculum we will work towards standardizing the lessons and provide additional training on lesson content. Our third finding was making sure that the non-disclosure statement is correct on all materials provided to participants. Thanks to the CNP offices that participated in the management evaluation – Albany County, WRIR, and Natrona County.
The Marty Moose training videos are completed and will be available soon for training. Thanks to Michelle Dollentas, Kristy Michaels, Debbie Kelly, Beth Barker, and Mary Evans for starring in the videos and to Lindsay Hadfield for producing the videos.
Megan and I attended the Western Region EFNEP conference in Fort Collins in May. The meeting was beneficial with lots of webNEERS training, program and staff evaluation, and information on program recruitment and retention. We are looking forward to 2019 as EFNEP celebrates it's 50 year anniversary.
Another 3-year SNAP-Ed plan was submitted to the Department of Family Services. CNP will continue to provide strong direct education programming and also multi-level interventions to help make eating healthy and being physically active more available and assessable for people with limited resources. Our next plan adds two new policy, systems, and environmental interventions in addition to the current PSEs we are implementing. The two new initiatives are helping food pantries offer healthier selections and providing technical assistance to qualified early childcare education settings to improve nutrition and physical activity. Our current PSEs that will continue are local foods initiatives; which includes farmers' markets incentives and EBT acceptance plus donation and teaching gardens; our Marty Moose school interventions; and SNAP-Ed referrals.  Once the plan is approved by the Department of Family Service, it will be submitted to the Federal Mountain Plains Regional Office in Denver for approval.
Enjoy the summer weather and have a great June!
Cheers,
Mindy
Personnel News from Ann:
Sublette County 4-H Youth Development Educator – Position #5376, based in Sublette, WY. This is a non-extended term position. Interviews have been held and an offer is pending approval.
Teton County 4-H Youth Development Educator – Position #4440, based in Jackson, WY. This is a non-extended term position. This position has been closed and will be reopened at a later date. Amy Wilson will serve as the interim 4-H Educator for a determined period of time.
For future position announcements and application instructions see http://www.uwyo.edu/uwe/jobs/index.html
With appreciation,
Ann Roberson