Download the Address Book – Version 17-177 (csv)
The UWE address book includes the names, mailing addresses, telephone numbers, and e-mail addresses for all Extension personnel at the University of Wyoming. Users are notified by e-mail when an update is released.
The address book file is a comma separated value file and has a .csv extension. The file name includes the version number that reflects the release date. The release date is the last five digits of the file name. For example, an address book file name of UWE15-188 indicates the file was released in 2015 on the 188th day of the year.
First-Time Installation
Take the following steps to import the address book
Before the file is imported, open up Outlook 2013 and create a UWE Address Book subfolder so this information is separate from other contact information.
In your People tab, highlight Contacts, right-click on it and select New Folder. The following window will pop up.
Enter UWE Address Book in the Name field. Press Ok.
Jump to "Importing the Address Book – #5".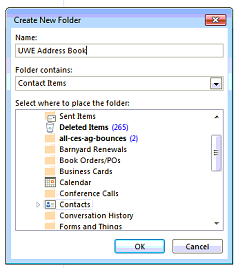 Subsequent Installation
Decide if you will be deleting the contents of your current UWE address book or if you will import the update into the UWE address folder and manually delete staff no longer employed with UWE.
Note: If you delete the contents of your UWE address book and you made additions/changes to the contents of the address book, those changes will be lost. If you incorporate the update into your UWE address book, you will need to manually delete the staff members no longer employed with UWE.
If you choose to delete the contents of your UWE address book:

Navigate to your People tab in Outlook 2013.
Highlight your UWE address book folder.
Highlight the contacts in the folder and press the delete button on your keyboard.
Jump to "Importing the Address Book – #5".

If you choose to import the update:

Manually delete the following staff (also listed in the first table of the update email).

Katy Paulsen
Sandi Arnold
Debbie Russell
Deborah Battleson
Coleman Griffith
Rachel Vardiman
Kassandra Thomas
Savannah Main
Maira Isidro-Perez
Sunny Gillespie
Brittany Johnson
Amy Andreen
Denise Manore

Jump to "Importing the Address Book – #5".
Importing the Address Book
Download the UWE Address Book (csv) and place it somewhere where you will find it easily.
Return to your Outlook 2013. Select File and then select Open & Export.
Click on Import/Export
Select Import from another program or file and press Next.
Comma Separated Values should be highlighted, press Next.
Go to the location where you saved the UWE Address Book using the Browse button.

Choose Replace duplicates with items imported and press Next.
Find the folder you created named UWE Address Book and highlight it, press Next.
Press Finish.