Administration News from Kelly & Mary Kay:
We wish you warm holiday greetings from Laramie. Our Extension and UW colleagues are certainly among the things we are thankful for this season.
Congratulations, again to all of our Extension and association award winners who were recognized during our recent EPIC event. Thanks again to Kim Reaman and the EPIC planning committee for a resoundingly successful conference.
Through the years UW Extension has sponsored employees to participate in the Western Extension Leadership Development (WELD) program. Because of budget considerations, we elected to nominate a smaller cohort for the next class consisting of Paul Johnson (C&T-campus) and Laura Balis (NFS-Fremont office). We hope WELD is a rewarding and productive experience for Paul and Laura.
If you plan to provide food at your educational programs or any UW-sponsored event, please consult UW's catering guidelines for off-campus activities. These guidelines can be found on our employee resources website at: https://wyoextension.org/employee_resources/uw-catering-guidelines-for-off-campus-activities/. Hopefully, these guidelines clarify UW's catering policies and ensure that expenses associated with meals and refreshments are readily reimbursed.
Have you ever wondered what Extension Administrators want for Christmas? Other than happy holidays and safe travels for all of you, we would like each of you to populate the UW Extension State Calendar: https://wyoextension.org/uwecalendar/events/ and the County Calendars: http://www.uwyo.edu/uwe/county-calendars.html  with all of your future educational programs. These calendars are increasingly being used by our stakeholders, funding partners, and colleagues to determine UW Extension outputs in individual counties and statewide. It is critical that these calendars truly reflect our educational outputs.
Personnel Note: Effective December 1, 2018, Hannah Swanbom has been named County Coordinator for Converse County. She is still located primarily in the Natrona County office. Scott Cotton is taking over as County Coordinator in Natrona County.
We wish you the very best for the remainder of 2018 and genuinely hope each of you enjoys a wonderful holiday season.
Kelly & Mary Kay
Staff Development/Federal Relations News from Kim:
Civil Rights Tip:
The Equal Opportunity Report and Response Unit focuses on reviewing and investigating allegations of violations of UW Regulations 4-2 (Discrimination and Harassment), 4-3 (Title IX and Sexual Misconduct), and 4-4 (Violence in the Workplace). Often information such as the paragraph below taken from the Title IX web site seems to be directed at the UW Campus in Laramie but it does include all of our UWE programs.
A campus environment characterized by diversity, free inquiry, and free expression and balanced by interpersonal civility has been, and continues to be, a top priority of the University of Wyoming.  Civil discourse is an essential aspect of the search for and transmission of knowledge.  Words and actions that promote and encourage self-worth, respect, and dignity are consistent with the University's mission.  Conversely, words or actions that reflect prejudice, stereotypes, and discrimination are antithetical to the mission of the University and cannot be countenanced.  Specifically, racist and other discriminatory or harassing conduct based on happenstance of birth, including but not limited to gender, color, disability, sexual orientation, religious preference, national origin, ancestry, or age, impair and disrupt legitimate University functions.  Every effort, within the context and protection of First Amendment rights, will be expended to eliminate such conduct from the campus community.  Teaching our students to live productively in a multicultural/multiethnic society is a process that must take place within a constructive and harmonious multicultural/ethnic environment here at the University of Wyoming.  It is the obligation of the faculty, staff, students, and the administration of the University of Wyoming to provide this environment.
UWE Contact Reporting Tip: Using the Comments Section
The comments section can be very useful for you and your supervisor. It doesn't require a lot of information, just enough so that you can find a specific entry when you need to edit it and add data for the additional question(s). The title of the educational program, community event, or program management activity is important to include in the comments section. For example, if you wrote an educational article for the newspaper about  invasive plant species on August 1 and conducted three, 2 hour plant walks to identify invasive species and how to manage them on August 7 (12 males/3 females, all adults); August 14 (7 males/10 females, 12 adults/5 youth); and again on August 21 (13 males/7 females, all adults), you could enter each program separately as they occurred OR because the educational topic is the same you could enter all the data at one time. If you tend to "lump" reporting it's helpful to include more specific detail in the comments section to communicate what was involved. If you "lumped" your entry would look like this: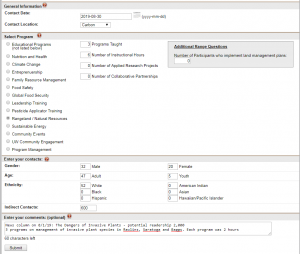 Then several months later after you evaluated the program and learned that 25 participants changed how they managed their rangeland, you would need to edit the original entry to include those results. It will be much easier to find if the title of the program is in the comments section. Click edit, add 25 in the additional questions box and remember to hit the submit button.

Other types of information to highlight in the comments section include:  date when follow up evaluation was completed; collaborative partners; type of applied research; title of radio programs or newspaper articles for indirect comments; potential readership/viewership/listenership, etc. for indirect contacts. The comments section is also useful for your supervisor because it allows them to easily see the variety of programs offered. Include what would be useful to you and your supervisor.
Right now it is cumbersome because you can only print one month at a time. We are working on a way to print all 12 months with the click of one button and I'll let you know when that is finished.
Annual Summary Matrix Update:
Two charts have been removed from the Annual Summary Matrix for UWE reporting:
Individual Educational Contacts is no longer necessary due to the expanded UWE On-line Contact Reporting.
Public Service
These changes are reflected in the blank Annual Summary Matrix forms found on the UWE Employee Resources web site. If you would prefer you can simply delete them from the summary matrix you already use.
Kim
Wyoming 4-H Program News from Johnathan:
Working with UW IT with questions? Just a reminder getting computer assistance from UW IT requires the use of a submitting a "ticket" request. This can be done on their page at  https://bit.ly/2BUsdlX  or, even easier, simply email userhelp@uwyo.edu and it will convert your question/request into a ticket automatically. You'll get an email back letting you know they received it and then someone will get ahold of you to resolve the issue. While she's still helping Extension, emailing Theresa Chavez for assistance is no longer a viable option. Send your email to userhelp@uwyo.edu .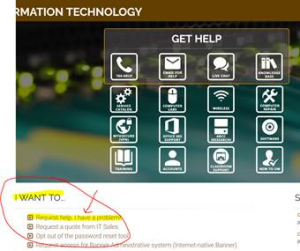 Enrollment is in full swing with clubs and projects already going across the state. We have monthly Zoom calls for everyone interested in 4-H with updates from our office and to answer any questions you might have. Between the calls, and our weekly update within 4-H Connect, we hope everyone is feeling informed and engaged. Thank you to those that emailed your top two project areas for our project learning state and county goals by the December 1, 2018 requested date (For those that didn't please do before the annual naughty list is out on December 25th!). We had great representation from Wyoming in a variety of areas nationally in this past month including National Meats Judging Contest, National 4-H Congress in Atlanta, and a youth won a national 4-H photo contest sponsored by Dreamworks! Next up are area meetings, volunteer trainings, finishing up club/committee evaluations from 2018, and chartering for 2019. Only 200 days until Showcase Showdown 2019!
Johnathan Despain
Cent$ible Nutrition Program News from Mindy:
The Cent$ible Nutrition Program is wrapping up its 2018 grant year. Our SNAP-Ed Annual Report is complete and we look forward to sharing our successes from the last year with the Department of Family Services and the regional SNAP-Ed Director. Seeing our partnerships grow and flourish into impactful community interventions is rewarding and exciting, especially as we see the difference these projects make in the lives of the people we serve. Our direct education continues to make a significant impact on our participants. Thank you to all of our CNP educators for their hard work and dedication!
We interviewed for the accountant position on December 3, which will be a split position between CNP and ABO. We are hoping to fill the position in the new year.
As 2018 comes to an end, we wish everyone a happy and healthy holiday season.
See you in 2019!
Mindy
UWE Personnel News from Ann:
Carbon County 4-H Youth Development Educator – Position #2241. This is a non-extended term position. Interviews are scheduled for December 17-18, 2018.
Converse County 4-H Youth Development Educator – Position #4365. This is a non-extended term position. The position closed on December 3rd. Screening is underway.
Teton County 4-H Youth Development Educator – Position #4440. This is a non-extended term position. The position closes December 16, 2018.
Anticipated openings coming soon!
Uinta County 4-H Youth Development Educator – Position #5407. This is a non-extended term position. This position will be reopening this month.
Campbell County 4-H Youth Development Educator – Position #4842 located in Gillette, Wyoming.
Carbon County Office Associate – Position #5130 located in Rawlins, Wyoming.