Administration News from Kelly & Mary Kay:
As many of you are aware, we are undergoing another leadership change. Bret Hess has stepped down as Interim Dean effective February 8, 2019. He is resuming his position as Associate Dean and Director of the Agricultural Experiment Station. Below is an excerpt from an email from Provost Kate Miller.
"I am especially grateful to Bret Hess and the entire leadership team for all of the time and energy you are devoting to the college during this time of transition. 
I am happy to report that Mark Stayton (retired, MOLB Department Chair 2007-2014, Associate Dean of Academic & Student Programs 2015-2017) has agreed to come out of retirement and assist with some critical administrative activities this semester.   Mark has a wealth of experience and considerable institutional memory important to the college.  Please let your faculty and staff know that Mark is on board and working closely with the leadership team and the Academic Affairs team."
We, Kelly and Mary Kay, continue to provide leadership for UW Extension and serve on the executive leadership group for the College. We also are continuing our collaborative efforts with Ag Experiment Station and Academic Programs as we prepare for a new Dean.
In further news, the Dean's search process is moving along. You are still encouraged to contact people you think should apply and/or share names with the search committee or search firm. The recruiting process is ongoing until the position is filled. The committee has started reviewing applicants and identifying candidates to interview in a first round. Later in the semester, a final small group of 2-4 candidates will be brought in for interviews including sessions on campus and out in the state. Stay tuned as your input will be needed at that stage.
Thank you all for recently completing this year's round of stakeholder input sessions. They were well organized. This data is critical for reporting, planning, and prioritizing.
Staff Development/Federal Relations News from Kim:
WyoFolio Tips:
If you are having trouble accessing your "case" for performance appraisal in WyoFolio, try this:
Change your web browser – Internet Explorer does not work.
Clear your cache/cookies and log in again.
Once you submit your case, it is locked. If you need to add a document or want to edit a document previously submitted, you will need to contact Kelly Casper and request that your case be unlocked.
Extension Professional Improvement Conference (EPIC)
Dates for EPIC have been confirmed! EPIC will be November 19-21, 2019 at the UW Conference Center which is attached to the Hilton Garden Inn in Laramie. Please save those dates and plan to attend. In case you are curious, we had to move the dates forward by one day because the UW Conference Center and the Hilton hold space and lodging rooms for Cowboy football activities!
Civil Rights Tip: Expanding your Audience
There are a number of strategies that you can use to expand your audience. All of the strategies can be summed up in two words – advertising and outreach. Some strategies are better than others and what is best for your program will depend on the characteristics of your target population and your program. Following are steps to improve your reach into the community and build participation in your program.
Build relationship with your community and target population. Give presentations at local events or for community organizations to highlight your program.

Be visible at community events, hand out promotional brochures, talk with participants, set up an Extension booth, offer quick hands on activities participants could do while there, offer workshops, etc.
Offer in-service training to staff at businesses/agencies/organizations where you could recruit participants.

Get your target population to participate – be sure to include both current users of your programs and non-users. Recruitment will be more effective if you rely on potential users to guide you. Ask them what is most likely to motivate people like them and what information sources they consider valuable and credible.

Draft slogans, posters, flyers, and personal contact promotion strategies.
Allow for modifications, revisions, and new ideas from potential participants of your target population.
Identify barriers to participation. Ask for feedback on ways to reduce the barriers.
Find out where the target population typically "hangs out." Particularly determine where people who are usually "hard-to-reach" can be contacted.
Determine how your target population typically gets information and how credible each source of information is to this group.

Determine what recruitment materials are best for your program. The target population you want to reach will be extremely helpful in developing content and identifying appropriate reading levels for recruitment materials.

Distribute brochures and flyers to individuals at the "hang out" locations identified in Step 1.
Make use of bulletin board displays at the "hang out" locations.
If potential participants in your target population receive regular newsletters from a particular organization, partner with them to advertise the program.
Word of mouth can take on many forms, such as presentations by Extension employees and endorsements from members of the target population.

Go where the target population is and don't make them come to you for recruitment materials. There are many community settings that you can and should use as recruitment locations.

Faith-based institutions
Community centers
Local clubs and organizations that cater to the target population
Worksites
Brainstorm other settings in your county/area
This information has been modified from the Improving Reach – RE-AIM website: http://www.re-aim.org/about/what-is-re-aim/reach/improving-reach/
Welcome Terri Deaver!
Terri will begin as the 4-H Youth Development Educator in Converse County on March 4, 2019. She comes to UW Extension with seven years of experience as a Boy Scouts of America District Executive and brings expertise in youth development, volunteer management, adult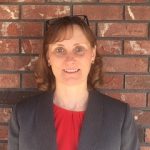 learning, program development and management. Terri was a 4-H member when she grew up in Michigan and particularly enjoyed the horticulture projects and activities. She earned a General Associate Degree from Lansing Community College and a B.S. in Elementary Education from Central Michigan University. When asked what brought her to Douglas Wyoming, she said "A wonderful new husband!" Terri's UW email has not been set up yet. It will be shared once it is active.
Kim
Cent$ible Nutrition Program News from Mindy:
February always starts the busiest time of year for the CNP State Office as Sandra and I prepare to attend several conferences over the next few months. February 4th-7th, Sandra, Karla Case, and I attended the Association of SNAP Nutrition Education Administrators (ASNNA) Conference in Washington, D.C. Sandra presented on the Mountain Plains Region's effort to aggregate SNAP-Ed impact data. Karla presented a poster, Partnering for Healthy Changes: Wyoming SNAP-Ed and the Salvation Army, about Natrona County CNP's local food work with the Casper Salvation Army.
Karla and I also had the opportunity to meet with our congressional delegation and share our impacts from the 2018 grant year. Despite the difficult weather on our return to Laramie, it was a successful trip. In March, we will return to D.C. for the National EFNEP Conference.
Currently, CNP has three open positions. We will be hiring a new assistant director at the state office in addition to two new educators out in the field. Please feel free to share the information below with anyone who may be interested! We look forward to having a full team once again.
State Office Extension Educator Assistant (CNP Assistant Director) | Job ID 19000286 | Closes 3/7/19
Natrona County Cent$ible Nutrition Program Assistant | Job ID 19000270 | Closes 2/14/19
Washakie/Hot Spring Cent$ible Nutrition Program Assistant | Job ID 19000497 | Posting date coming soon
This week, I am attending the Nutrition and Food Safety Retreat and look forward to future collaborations between CNP and NFS.
Across the state, CNP educators continue to provide direct education classes and work with local partners on PSEs. We are especially excited about new ECE and Food Pantry partnerships.
Until next month,
Mindy
Wyoming 4-H Program News from Johnathan:
Tired of remembering all the meeting ID's in Zoom?  You can customize them to be the same so you can remember and others can remember you too!  Zoom allows you to create your own personal meeting ID and a personal link that eliminates any numbers at all.  We suggest you use your phone number.   Here's an example of using Johnathan Despain's URL- https://uwyo.zoom.us/j/3077665170  or https://uwyo.zoom.us/my/jdespain .  The meeting ID is his office phone number and his personal link is simply his name.  If you are interested in doing this, go to https://bit.ly/2FHwIzO   for how-to information.  When you set up a new meeting, just be sure to click on the "Use your Personal ID" box.  Also, did you know that Zoom now has a plug-in for Outlook 365 that allows you to set up Zoom meetings directly from within Outllook 365?  If you are a Zoom user, this is very handy!  Check it out too at- https://bit.ly/2gj8UaC .
UWE Personnel News from Ann:
Teton County 4-H Youth Development Educator – Position #4440. This is a non-extended term position. Interviews have been held and announcement will be made soon.
Uinta County 4-H Youth Development Educator – Position #5407. This is a non-extended term position. This position has been extended and will close March 4, 2019.
Campbell County 4-H Youth Development Educator – Position #4842. This is a non-extended term position. This position will close February 25, 2019.
Carbon County Office Associate – Position #5130 located in Rawlins, Wyoming. This position has closed and interviews will be scheduled.
Welcome to our newest administrative professionals:
Emily Dalin joined the Big Horn County Extension Office on January 23, 2019. edalin@uwyo.edu (307) 765-2868
Megan Smith joined the Sublette County Extension Office on January 28, 2019 sublette@uwyo.edu (307) 367-4380