Administration News from Kelly:
The storms have passed (well, mostly), and spring has come. Sorry to start with a cheesy metaphor, but like springtime in Wyoming, there are currently a lot of signs of new beginnings for UW Extension and the university. In the next few months we will have a new dean of our college, a new director, two new associate directors, a new manager for our C&T team, and hopefully several new UW Extension educators.  The university will also begin the transition to a new president in the next few weeks. For me, these changes illicit a mixture of feelings, including: excitement, optimism, uncertainty, and sorrow for the loss of valued colleagues. Among all these, optimism and excitement prevail. Thanks to the hard work of all of you, the incoming leadership of our college and the university continue to hear the resounding support and critical need for UW Extension from community members throughout Wyoming. The future certainly looks bright for UW Extension.
Thank you for your critical contributions to UW Signing Days; you all made UW Extension look great! Please enjoy the spring weather and take care of yourselves.
Kelly
Staff Development/Federal Relations News from Kim:
New Employees:
Celeste Robinson, 4-H Youth Development Educator, Campbell County
Celeste joined the Extension team in Campbell County on April 29, 2019. A lifelong 4-H member, Celeste participated in the same 4-H club where her father had been a member and her grandmother a 4-H leader. As a youth and young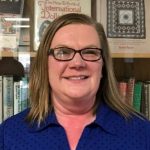 adult she had a variety of 4-H experiences in horse, crocheting, sewing, cooking, and leather crafts plus worked at the county fair office preparing for fair during high school and college. Celeste also been a volunteer leader in 4-H and enjoys working with all the members in the 21 Butte 4-H club. She graduated from UW with a B.S. in communication disorders and a focus in speech/language pathology. Celeste shared "Learning is a different journey and experience for everyone. I love working with children and families and watching them grow, create and become excited about the things they learned and problems they learned to work through and overcome." Celeste's e-mail is crr10@ccgov.net.
Professional Development:
EPIC is scheduled for November 19-21, 2019 at the UW Conference Center in Laramie. Thanks to our colleagues whom have agreed to serve on the planning committee: Hudson Hill, Denise Smith, Abby Perry, Jim Dawson, Hannah Swanbom. I would also like to welcome Sandra Biller and Tanya Engel to the planning committee. Please feel free to reach out to any member on the planning committee and share your thoughts and ideas for 2019 EPIC.
UWE Administrative Update and Dialogue Zoom Conference:
Please plan to join the next UWE Administrative Update and Dialogue on Friday, May 17, 9:30 am. The agenda includes an administrative leadership update, financial issues, approved list of caterers, and a C&T publication update. Connection information to join the Zoom meeting is:
https://zoom.us/j/524249696 or to join by phone call: 669 900 6833 OR  646 558 8656              Meeting ID: 524 249 696
John P. Ellbogen Foundation Wyoming Communities, Agriculture, and Rural Living Fund:
Have you been thinking about a program you would like to do but don't have the financial resources? Any UWE personnel are eligible to apply for funds through the John P. Ellbogen Foundation Wyoming Communities, Agriculture, and Rural Living Grant. The full RFP was e-mailed on April 12, 2019. If you are interested in applying and have trouble finding it, please let me know. I would be happy to forward it again.
Approximately $22,000 will be available for distribution in this funding cycle. Completed grant applications must be e-mailed to Kim Reaman no later than September 1, 2019. Selections will be announced by early October.
Phase I is for new applications. Grant applications will be evaluated based upon the following criteria:

Impact on a particular community and service to its constituents;
Responsiveness to current issues and challenges faced by local communities, agriculture, and Wyoming as a whole;
Enhancement to quality of life on a particular community and its constituents; and
The ability to replicate the project or impact in other communities (if appropriate).

Phase II supports the expansion of projects previously awarded. Any projects which have been completed and have potential to expand their current reach are eligible to apply for Phase II funding.
UWE Contact Reporting Tip: UW Community Engagement
With UW Signing Days going on around the state this is a great time to review the purpose of recording contacts under UW Community Engagement in contact reporting. It gives us an opportunity to share with university administration the impact Extension can have through this type of outreach effort. Any event conducted that creates excitement about attending UW would be entered under UW Community Engagement. Examples would be UW Signing Days, organized visits to campus, such as 4-H Showcase Showdown, presentation on Ag careers, or a tour of the College of Ag and Natural Resources. Please note the additional questions in UW Community Engagement are about the number of events/visits. So if you organized three activities were youth and/or their parents visited UW, you would enter three. It would be very helpful if you also included what the event was in the comments section. The number of people who participated in those events would be entered under the demographic information.
Kim
Cent$ible Nutrition Program News from Mindy:
We want to welcome our two new educators to the CNP Team – Carol Michenzi in Natrona County and Angela Michel in Washakie and Hot Springs Counties. Carol joined the team in Casper on May 1 and has an extensive background in education. Angela will start May 13, just in time to join us for Spring Fling.
We will have our annual Spring Fling Training in Casper, May 13 to 15. The theme is Gone Adventuring and will include a scavenger hunt. We are excited to train on the final version of our new adult curriculum, safe food handling at food demos, PSEs, and connecting with community partners.
We do have one retirement to announce. Becky Green is retiring May 10, 2019 after over 20 years with UW CNP. We want to thank her for all of her contributions to CNP and UWE over the years and wish her well in her retirement.
Happy May!
Mindy
UWE Personnel News from Ann:
Uinta County 4-H Youth Development Educator – Position #5407. This is a non-extended term position. Interviews have been conducted; an announcement will be made soon.
Communications & Technology Manager Position #0851. This is a staff position. The position closed April 8th; interviews have been scheduled.  
 Welcome to our newest administrative professional:
Linda Farrier joined the Goshen County Extension Office.  goshen@uwyo.edu (307) 532-2436