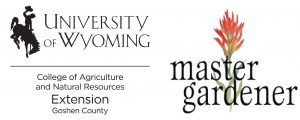 University of Wyoming Extension Master Gardeners
The Master Gardener Program of the University of Wyoming Extension (UWE) exists to extend the university to the people of Wyoming via volunteer service in horticulture. Volunteers are trained to provide sound, research-based, regionally appropriate, horticultural information to the general public.
The Goshen County Master Gardener (GCMG) program began in 1991. It is a formal organization of qualified and trained Master Gardeners.
Club Information and Officers
President: Roberta L.
Vice-President: Sheila M.
Secretary/Treasurer: Linda F.
Current Happenings –
Join the online Master Gardener training beginning February 10 – May 12! Held via Zoom each Wednesday, this 14 session training includes presentations from UW Extension expert and current Master Gardener volunteers.
Whether a new gardener or have had dirt under your nails for years, you can expect to learn how to successfully grow plants in your landscape and garden in Wyoming's unique growing environment.
Call the Goshen County Extension office at 532-2436 or contact http://www.uwyo.edu/mastergardener/ 
Check out this flyer: MG Training flyer_updated_012221