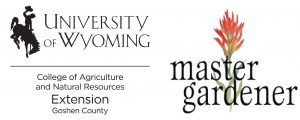 University of Wyoming Extension Master Gardeners
The Master Gardener Program of the University of Wyoming Extension (UWE) exists to extend the university to the people of Wyoming via volunteer service in horticulture. Volunteers are trained to provide sound, research-based, regionally appropriate, horticultural information to the general public.
The Goshen County Master Gardener (GCMG) program began in 1991. It is a formal organization of qualified and trained Master Gardeners.
Club Information and Officers
President: Roberta L.
Vice-President: Sheila M.
Secretary/Treasurer: Linda F.
Meetings
Months: January, February, March, April, May, & September, October and November
When: Second Tuesday of each month at 6 pm
Location: Goshen County Extension Office
What: Meetings consist of an educational presentation as well as a business meeting
Programs and events
Plant and Pest Diagnostic Clinic
Check out our diagnostic clinic to get all your yard, garden, tree, and insect questions answered!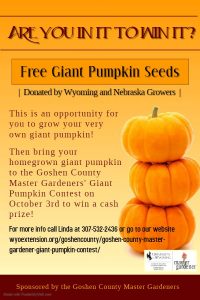 Goshen County Master Gardener Giant Pumpkin Contest
Get your seeds and get growing your own giant pumpkin!
Goshen County Master Gardener Class
Are you interested in becoming a Master Gardener? Check out our next class!
Find that new addition to make your yard complete!
Annual Spring Garden Conference – more info to come