Check out the University of Wyoming Nutrition and Food Safety Webpage at https://uwyoextension.org/uwnutrition/
Find us on Facebook at https://www.facebook.com/UWEnutrition/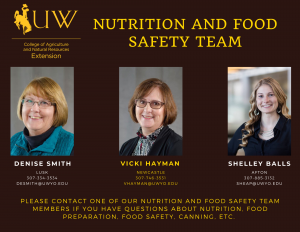 Nutrition and food safety educators promote healthy lifestyles and healthful eating by providing Wyoming residents relevant and practical science-based information. Programs include:
Healthy Eating – make smart, healthy lifestyle choices for today and in the future
Dining with Diabetes – designed to help people with diabetes stay healthy and eat enjoyably
Food safety – reducing the risk of food-borne illness
Local foods and sustainability – promoting the sustainable practice of growing, purchasing, and preserving local foods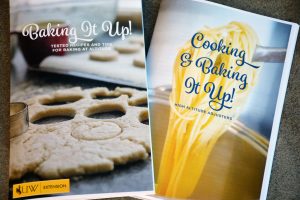 Ever wonder why cakes rise to the oven roof before falling and foods are under-cooked when you follow the directions exactly? Two new publications from University of Wyoming Extension let you blame it on the altitude.
They help curious cooks and bakers adjust for the effects of lower air pressures, humidity and boiling temperatures at higher elevations.
 "Cooking and Baking It Up! Altitude Adjusters" covers food preparation from cookies, breads and cakes to boiling eggs, deep frying, candy-making and canning.
"Baking It Up! Tested Recipes and Tips for Baking at Altitude" is a revised and expanded remake of the classic "Baking at High Altitude," first published more than three decades ago.
Both publications feature new, original photographs and food safety fundamentals. They're free at bit.ly/UWEpubs.
"The U.S. Department of Agriculture defines high altitude as anything over 3,000 feet," says Vicki Hayman, UW Extension nutrition and food safety educator in Weston County. "That means parts of most western states and ALL of Wyoming."
Since most recipes are created for sea level, success at higher elevations may require adjustments in time, temperature or ingredients, she says.
Hayman helped prepare the new guides, which join "Friendly One-Pot Meals from Your Pressure Cooker" and "Diabetes-Healthy Recipes Everyone Will Love" in extension's "Cooking It Up!" series.
For more information, contact Hayman at 307-746-3531 or vhayman@uwyo.edu.
"Baking It Up!" and "High Altitude Adjusters" are among the many free guides, courses and videos from UW Extension that help extend skills from soufflés and strawberry jam making to master gardening, estate planning, critter care, and more. See bit.ly/UWEpubs. YouTube video series from UW Extension include "Barnyards and Backyards," "From the Ground Up" and "Exploring the Nature of Wyoming."
Questions on preserving food in Wyoming?
We can help!
Let's get those empty jars filled with all of your garden goodies!
Publications available for:
                              ~Tomatoes ~ Vegetables ~ Pickles & Sauerkraut ~ Jams & Jellies ~                        ~ Wild Berries & Other Fruit ~ Fruit ~ Meat ~
Publications Available at the Big Horn Extension Office
Resources

Get your canner tested annually!
Your local nutrition and food safety extension educator can test the gauge of your pressure canner to make sure it is operating properly.
Locations: Cody, Powell, and Worland Extension Offices
The test is free. Call ahead for an appointment to bring in your canner lid.