Administration News from Kelly:
First, I want to extend my sincere wish that you all have a rewarding, safe, and enjoyable holiday season. I hope the upcoming winter break provides each of you with some much deserved rest, relaxation, and recharge.
We are excited for Dr. Marney to start her Associate Director responsibilities (West or East remains undecided) on January 21, 2020 and we are hopeful that our newly launched search process will produce another group of outstanding candidates for the other Associate Director position. We anticipate interviews in March/April with a target to have someone on-board by spring of 2020.
Recall, we established January 17, 2020 as the deadline for you to upload your annual reporting documents into your WyoFolio "case". Apparently, we were overly optimistic in our scheduling and we recently learned that the Academic Affairs is working on internal pieces to WyoFolio thus we will not have your cases prepared for uploading until at least the end of January. So, please scratch the January 17, 2020 deadline for annual reports and stand-by for more information.
As you know, November and December is annual meeting season for many of the state agencies, special interest groups, and industry organizations in Wyoming. Some individuals jokingly refer to these meetings in the aggregate as the "Prime Rib Tour" in reference to their participation in the banquet meals associated with each these meetings. Our collaboration, service and partnership with these organizations is important. These annual meetings provide critical opportunities for us to advocate for UW Extension and to demonstrate our commitment to serving these organizations and contributing to our shared educational mission. In my interactions with the leaders and members of these organizations I continue to encounter resounding support for UW Extension and a continued sentiment that resources must be directed to restore our capacity to deliver community-based education throughout Wyoming. In spite of recent reports of shrinking state budgets and challenging economic conditions, there are plenty of indicators from State Leaders, Acting UW President Theobald and Dean Rasco that 2020 will be a year of growth for UW Extension. So, Happy New Year!  Thank you for being great!
Staff Development/Federal Relations News from Kim:
Congratulations to the recipients of the John P. Ellbogen Foundation Wyoming Communities, Agriculture and Rural Living Project Fund
Phase I:
STEAM Fridays sponsored by Niobrara County 4-H, submitted by Kellie Chichester, Denise Smith, and Erin Smith – The Niobrara County School District moved to a four-day school week for all students kindergarten through 12th grade, leaving child care as an emerging need throughout the community. The Niobrara County Extension Office, Nutrition and Food Safety and 4-H are teaming up with 4-H Volunteers, Niobrara County Homemakers and other community partners to provide a safe, learning environment for any school-aged youth needing childcare. STEAM Fridays will feature hands on activities in science, technology, engineering, art and math at the Niobrara County Fairgrounds each Friday morning throughout the school year.
Wyoming Ranch Camp – Training Future Ranchers, submitted by Bridger Feuz, Hudson Hill, Chance Marshall and Barton Stam – Wyoming ranchers face many challenges to operating a sustainable ranch. The Wyoming Ranch Camp will provide an experiential, in depth, learning experience for recent high school graduates and college age youth to hone and practice their skills to better prepare them for these challenges. Participants will learn ranch management through a 5-day camp covering meat science, animal science, economics, ranch recreation and range management. Participants will compete as teams to develop a complete ranch plan from the information they are taught. Ranch plans will be evaluated by principal educators as well as ranch managers. Each day a top hand buckle will be awarded to one of the participants. Members on the winning team will each be awarded a $500 scholarship to the University of Wyoming.
Phase II:
Discover Native Plants, submitted by Kristina Hufford, Bobbie Holder and Jenny Thompson – In 2015, a UW Small Acreage landowner survey determined that "protecting natural resources on the land" and "growing native plants" were priorities. As a result, the Discover Native Plants (DNP) program was created with funding from Phase I to foster knowledge and stewardship of native plant communities and landscape productivity. In Phase II, the existing project will be scaled up with new partnerships and additional workshops. The curriculum will also be adapted to meet the needs of a broader range of Wyoming communities. Potential partners in Phase II include the Cheyenne Botanic Gardens, Conservation Districts, The Nature Conservancy, Wyoming Native Plant Society, Wyoming Weed & Pest, Wyoming Game and Fish and R&E Centers. These expanded partnerships and curriculum will help Wyoming citizens become familiar with relevant plant species, including general knowledge of local flora and specific knowledge of weeds, horticulture and wildlife.
Real Kids, Real Fun, Real Foods, submitted by Mary Evans and Julie Balzan – Research identifies family mealtime as a factor for reduction in substance abuse, increasing healthy food consumption, improvement in student grades and enhancing family connection. The curriculum and workshops developed in Phase I for Real Kids, Real Fun, Real Foods provided children with skills to help prepare family meals with whole and minimally processed foods, ensure food safety and model family time together in the kitchen and at mealtime. The curriculum, specifically geared toward students, included recipes, food safety reminders, and nutrient information. The addition of YouTube videos in Phase II will allow students to access lesson reinforcement on their own and with their parents. A series of 5 baking lessons will also be created to supplement the initial curriculum. The pilot program conducted in Platte County will be expanded to additional counties in Phase II.
Civil Rights Reporting Tip: New Demographic Information
There are a few revisions to the UWE Online Contact Reporting which are effective for the 2019-20 reporting year. Those are highlighted below and are reflected in the reporting system now.
• Self-Described has been added to gender
• Two or More Races and Other Race have been added as an option under Race
• Ethnicity includes Hispanic or Non-Hispanic
• Did Not Respond has been added as an option in Gender, Race and Ethnicity
Please remember that gender, ethnicity, and race is gathered ONLY for direct contacts and the reported numbers under gender, race and ethnicity must equal the number of contacts. If those numbers do not match, you will receive an error message. In the example below, 32 participants were reported: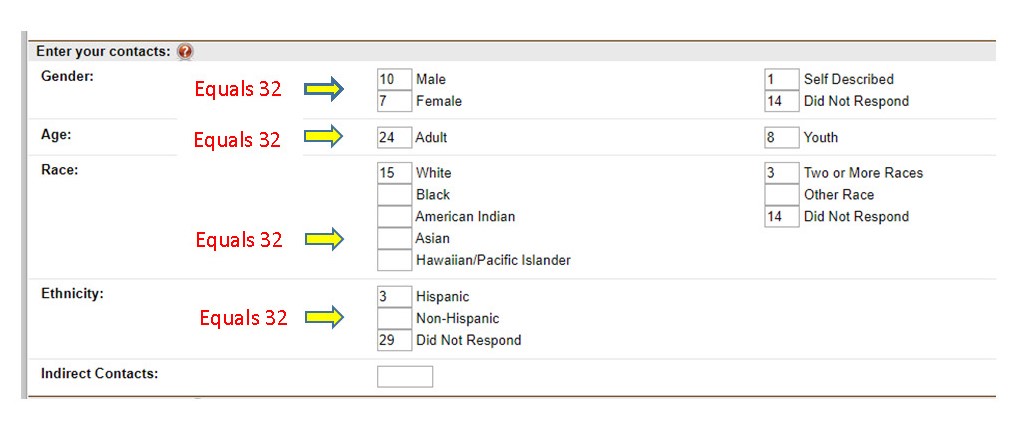 For civil rights compliance UW Extension has an obligation to ask for demographic information from our program participants. Demographic information can be gathered on registration forms for an event, order forms for a service or sign in sheets at an event. If you work regularly with the same group of individuals it would be appropriate to gather the demographic information once.
Bobbie Moore, the Civil Rights Director at NIFA, suggests that giving participants the opportunity to self-report demographic information is the best practice. She has shared examples of sign in rosters which I have customized to UW Extension. Those are available on the UWE Employee Resources web site under Reappointment – FTRC – Promotion & Ag Faculty Reporting. While we have an obligation to gather this demographic information, it is ALWAYS voluntary for participants to self-report. Historically, visual observation has been an accepted way to document race and ethnicity. That practice is no longer acceptable so a box to report the number of individuals who did not respond to race and ethnicity has been added.
According to Dr. Moore, however demographic information is gathered, it must be documentable and defendable in a case of law and those records should be kept for 5 years.
EPIC
Thank you to everyone who completed the on-line evaluation of 2019 EPIC. Overall the evaluations are positive and encouraging and we are always thankful for your suggestions about how to make EPIC even more valuable. 2020 EPIC will be held somewhere out in the state and planning will begin soon. If you are interested in serving on the planning committee, please let me know.
New Employee Training
New employee training will be held on campus January 28 and 29, 2020. A reminder with additional information will be e-mailed directly to the new employees.
Kim
Cent$ible Nutrition Program News from Mindy:
The Cent$ible Nutrition Program state office is busy working on completing our annual report for SNAP-Ed and out in the state, our new grant year is off to a great start. 2019 was an incredible year for CNP and we are excited to see our programming and community PSEs grow and evolve this coming year.
Next week we will hold interviews for our open Administrative Associate position, with the hope of bringing someone new on board in January. At the beginning of January, we will have the second part of initial training for our three new educators who started with CNP this fall.
As the winter break gets closer, we are working on wrapping up several projects, including revisions to the CNP cookbook; developing a billboard about active living, which will go up in two locations on the Wind River Indian Reservation in January; and sharing a few more healthy holiday tips and recipes on our social media. If you are interested in helping people in your community have healthy holidays, check out our healthy donations list for food pantries. We are looking forward to a restful break to kick off 2020.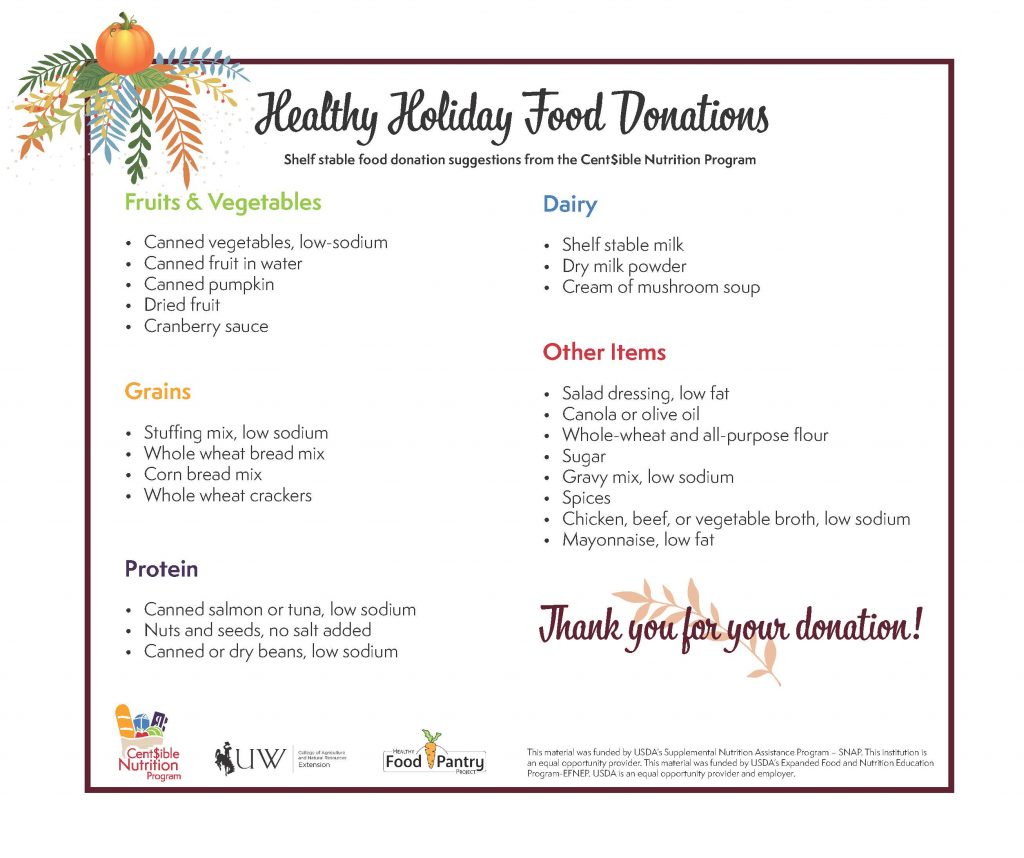 Wishing you and your family a happy, healthy holiday season and new year!
Mindy and the CNP state office
Wyoming State 4-H Program News from Johnathan:
– A new 4-H Portfolio online platform was launched to support our digital record keeping efforts. The new system is all online with abilities to print documents out as desired. A few content changes, but very minor when compared to the previous ones. We are excited to have a better technological option for this for our 4-H families. Search up zingbooks or zsuite.com for more information.
– The Wyoming State Fair will be August 11-15, 2020. Many counties look for this for printing in spring/summer calendars, newsletters, etc. If you are new to Wyoming Extension, be sure to check into lodging practices, accommodations, etc., if you are attending.
Merry Christmas, Happy Hanukkah, Happy Kwanzaa, Feliz Las Posadas, Happy Mawlid-Al-Nabi, , Happy Bodhi Day, Wishing A Cool Yule, Happy Zarathosht Diso, or Happy Holidays!
UWE Personnel News from Ann:
UW Extension Associate Director, position #0753 – The position for a second associate director will be opened soon for a national search.
Sublette County 4-H Youth Development, position #5376 – The position will be opened soon for a national search.
Sublette County Rangeland University Extension Educator, position #1699 – The position will be opened soon for a national search.
Welcome to our new administrative assistants:
Carbon County – Kirsten Burgess, kburgess3@uwyo.edu started October 21, 2019
Fremont County – Cassandra Weber, starting January 6, 2020
Platte County – Jamie Hunter, platteco@uwyo.edu started October 7, 2019