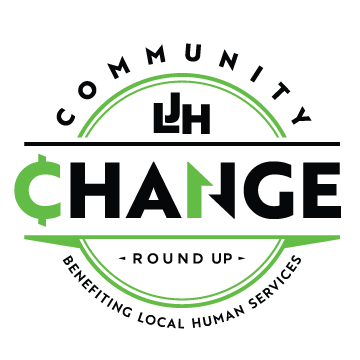 This is an initiative developed by the Leadership Jackson Hole Class of 2023. The goal is to raise funds that benefit the critical local human services in the Jackson community and greater Teton County.
How it works: Businesses are invited to participate in this fundraising campaign from May 26 through September 30, 2023. Those that participate in this program will add functionality to their point of sale (POS) system that allows all transactions the option to 'round up' to the next dollar. For example, if a sale is $10.51, the system would prompt the customer the option to round up to $11.00. The additional 49 cents would be donated to the below organizations. The money transfers from participating businesses would be facilitated through the Community Foundation of Jackson Hole.
---
The money raised through the Community Change Program will benefit local, nonprofit human services organizations recognized by Teton County's Human Service Council which include:
Teton Youth and Family Services
Website
Helping children and families find their way to fulfilling and constructive lives. Their services saw a 40% increase in need in 2021. Annually they serve over 400 youth and their families, and 85% of those youth don't go on to higher levels of care.
Senior Center of Jackson Hole
Website
The community hub for active people over 60 with dining, wellness, homecare, transportation and advocacy solutions. 1,443 seniors were served through the Senior Center programs last year.
One22 Resource Center
Website
One22 Resource Center's mission is to invest in and support our neighbors who face financial and cultural challenges. They're supporting one thriving and diverse greater Teton community. 320,917 meals have been provided through the Jackson Cupboard.
Mental Health & Recovery Services of Jackson Hole (formerly known as Jackson Hole Community Counseling Center)
Website
Promoting mental wellness and providing mental health services in Teton County regardless of a person's ability to pay. Individuals and families have received quality and affordable direct mental health support available 24/7, which is subsidized through donations alone.
Community Safety Network
Website
Providing a safe place and support for people affected by domestic violence, sexual assault and stalking. Over 1,100 safe bed nights provided annually to adults and children impacted by gender-based violence.
Community Entry Services
Website
Dedicated to empowering people with disabilities, maximizing their independence in order to lead satisfying, productive lives in the community. 24-hour support for community members with intellectual disabilities.
Climb Wyoming
Website
Helping low-income single mothers discover self-sufficiency through career training and placement. On average, monthly wages for Climb Wyoming's Teton Area graduates have more than doubled two years after the program.
Teton Literacy Center
Website
Family Literacy Center that offers 100% free programming. 464 students received over 38,000 hours of free literacy support.
Children's Learning Center
Website
Develops a foundation for future contributing members of society and strong communities by providing accessible and research-based programs for young children and families. Over 1,000 families and young children, regardless of their backgrounds or abilities, received early education services.
Please note: Leadership JH can help provide instructions and/or assistance setting up the program on your business's POS system.