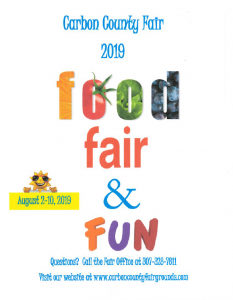 County Fair Registration will be open until July 12, 2019 at 10:00 p.m.  Please remember that Showmanship is a separate class, and the system does not automatically enter you in that.  We will not take any late entries.  Exhibitors will receive a confirmation email after they have completed their entries.  If you have questions about what you are entered in, call the Fair Office and we can check.  If you forget to enter something the first time, you will not be able to go back in until your first entries have been confirmed; then the system will let you continue with your entries.
At the time you do your entries, that will be the time you determine if an animal is market or breeding class.  It's always a good idea to enter more than you will need, and scratch the ones you don't end up bringing to county fair instead of not entering a project you're not sure about and then wishing you had. NO LATE ENTRIES WILL BE ACCEPTED.  This goes for live animals as well as static projects.
If you have any questions, please give the Fair Office a call! (307-328-7811)
Breeding Beef Incentive Program
The breeding beef incentive program is to encourage 4-H and FFA youth to participate in a Breeding Beef project at Carbon County Fair. This program is funded through donations received from Carbon County Cattle producers and local businesses.  Any 4-H or FFA member entered in a Breeding Beef heifer project at the 2019 Carbon County Fair is eligible to enroll that heifer in the Incentive Program.
Eligibility
Participants must register their 2019 show heifer in the Incentive Program at the 2019 Carbon County Fair
Participants must reenter the 2019 show heifer at the 2020 fair with a calf at her side
2019 Donor Heifer projects do qualify, however they must enter the Incentive Program in addition to the Donor Heifer Program.
Registration forms for the Incentive Program will be available at the 2019 Beef Show during County Fair
Incentive Prizes
When participants return to the 2020 Caron County Fair with the pre-registered cow/calf pair, the exhibitor will receive a $200 cash bonus.
At the 2020 Carbon County Fair the top three placing in the Breeding Beef show will receive the following:
     Supreme Champion cow/calf pair – $250
     Reserve Champion cow/calf pair – $150
     3rd place cow/calf pair – $50