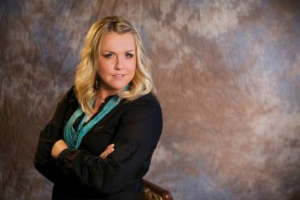 Sami Jo Heitsch
November 2014
"If we don't change, we don't grow. If we don't grow, we aren't really living." – Gail Sheehy
Hello all! My name is Sami Jo Heitsch. I am a May 2014 graduate in Agricultural Communications with minors in Marketing Communications and Agriculture and Applied Economics. I am a former Ag Ambassador and I was active in many extra-curricular activities around the University of Wyoming campus! Since graduation I have experienced a lot of changes in my life, and I have to agree with American author, journalist, and lecturer, Gail Sheehy, in her quote about changes. If you're not changing you're really not living.
Just to give you an idea, here is a quick summary of what I have experienced since graduation seven months ago. Immediately following graduation I moved to Omaha, Nebraska and worked for RFD-TV's social media department. During my time in Omaha I became the only person in the social media department, I became a certified Zumba instructor, and I met some AMAZING people that are key players in the marketing, television, and events industries! After six months in Omaha, I declined a full-time job offer, I made the decision to move home to Wyoming, I applied for marketing and communication positions around the country, I accepted a freelance position at the National Finals Rodeo and I accepted a full-time position in Nashville, Tennessee working for RFD-TV in its events department.
These changes caused some fear and stress, but because of the lessons I learned as a student in the College of Agriculture and Natural Resources and putting my trust in the Lord, I was prepared for every curve ball life has thrown at me thus far. During my time at UW, the key lesson I learned was the importance of having a strong support system. My support system included advisors, teachers, friends, and family. One organization that was instrumental in my growth was the Ag Ambassador program. It provided me opportunities to get involved on campus, network with professionals, and meet peers that shared a passion for the agriculture industry. Along with my involvement in extra-curricular activities, one of the most influential classes I enrolled in was Dean Galey's Elements of Leadership class in the College of Agriculture and Natural Resources. (If you haven't heard about this class, ask your advisor or Kelly Wiseman!) This class was a great opportunity to grow my support system and it helped me prepare for life after graduation. (I don't want this to be a spoiler, so you will have to take the class to find out what I'm talking about!)
Overall, as a recent graduate, my advice for current and incoming College of Ag students is to never be afraid of change. The world we live in is rapidly changing, and it will continue to grow. But rather than worrying about those changes, I encourage you to embrace it and find out how you can get involved. The one lesson I wish I would have learned the first day I became a UW student was
challenging myself to understand the reasons for the changes that were happening around me and finding out how I could get involved. One lesson I recently started applying to my work routine and I encourage you to start applying now is always asking "Why?" By doing so, you will have a better understanding of the changes happening around you and it may encourage you to get involved. In result of getting involved, you will have some AMAZING memories to cherish and a support system that will always be there for you!
Gods blessings to all College of Agriculture and Natural Resources students, and don't forget, if you embrace the change around you, you will thrive!
-Sami Jo Heitsch       sjheitsch@hotmail.com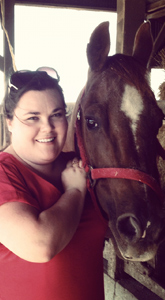 Molly Hansen
February 2014
Hello everybody! My name is Molly Hanson and I graduated from UW in May 2013. I transferred to UW and spent three fantastic years in Laramie and now I am back in my native California as a Masters and credential candidate in Ag Education at California Polytechnic University, San Luis Obispo. In my free time I can usually be found at the many beach towns along the central coast weaving in and out of antique stores and photographing the stunning scenery. Being back in California has also reminded me of the importance of agriculture and the need to keep it alive and prosperous in order to feed the world.
I can honestly say that I would not be where I am today without the wonderful staff and peers at UW. Ag Ambassadors is a wonderful opportunity for not only personal growth, but to aid in the positive growth of the School of Agriculture and Natural Resources as well. If you are considering joining, I would highly encourage you to do so.
There are so many fantastic opportunities at UW, I recommend taking advantage of the many study tours and abroad programs offered through the School of ANR including programs in France and Kenya. I had the opportunity to go on the latter and it was one of the best experiences of my life.
I encourage you to get out of your comfort zone. Try new things that may scare you, take classes that might sound a little crazy, make new friends, go on adventures, but mostly enjoy your time at UW. You have amazing opportunities in front of you, take them.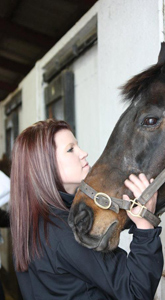 Kaitlynn Glover
November 2013
Hello current and future Ag Ambassadors! During my time at UW, I was an ambassador for the college for four years. I graduated in 2013 with degrees in Agricultural Communications and Honors, with a double minor in International Agriculture Economics and Farm and Ranch Management. Now, I am a Masters student at University College Dublin in Dublin, Ireland researching knowledge transfer in the agriculture industry. My time as an ambassador allowed me to meet truly inspirational agriculture mentors and serve our unique industry. When many of us are in college, we feel a bit out of touch with our agricultural community, but A2 is the best way to stay connected with a busy, productive industry. Serving at the Ag Day Barbeque, participating in graduation ceremonies and volunteering for events around the state are all fantastic ways to increase your exposure and network as a college student. Networking is the single most important thing college students do – other than attending lectures, of course! Introduce yourself. Make yourself visible for the right reasons. Gain the respect of your peers and mentors. Your four years at UW are the gateway to the rest of your career opportunities, so take advantage of every opportunity presented to you. One final piece of advice: go outside your comfort zone. In my four years, I took two different internships, moved across the US twice, and ended up moving around the world simply because I thought I'd take a chance and submit an application for something I thought was a long shot. As a freshman, I thought I'd be in law school by now; instead, I'm in Ireland as the first American in my program, writing a thesis about pigs- a subject I know nothing about. Take the leap of faith when a unique opportunity is presented. You can be an AGvocate from anywhere in the world, so take advantage of your gifts and serve your agricultural community to the best of your ability, no matter whether that community is a town of 50 or the campus of UW.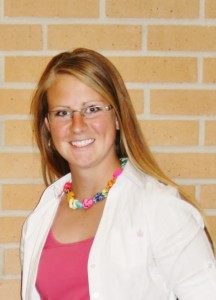 Kailey Barlow
September 2013
Hello readers! Two years ago I was not sure where I was going to go or what I would be doing after graduating college. Thankfully, pieces started falling together as graduation neared. I graduated from the University of Wyoming as an agricultural business major with minors in finance and banking financial systems in December of 2012. I now serve as the manager of the Sublette County Fair — when I'm not busy working on my family's ranch or teaching riding lessons for MESA Therapeutic Horsemanship. I am very thankful that I had the opportunity to return to my hometown, Big Piney, WY and have so many opportunities here!
Yet, I will never forget my days at UW. The advice I would give to current students is never-ending! First, don't be disappointed when you realize that the "dream career" is not actually your "dream career." That might sound confusing, but for those of you who have changed your major, you probably know exactly what I mean. Second, get involved. I was very active in numerous organizations both on and off campus throughout my collegiate career and that made all the difference in the world as I applied for jobs. Third, don't rush. I graduated with a B.S. and two minors in three and a half years, even after changing my major during my sophomore year. Looking back, I'm not really sure how I managed to do that, but I would not recommend it to anyone.
Today, I am active in numerous agriculture organizations and continue to be an ambassador for agriculture. I plan on using my knowledge and passion for the industry to help ranchers across the Western United States develop or continue operating profitable ranches. I foresee my future being in the agriculture industry and continuously work to represent the industry in its best light.
Wade Allnut
August 2013
After graduation I moved back home to Walden, CO. I am currently working for myself and with my dad taking care of our cows. I have been building my own herd since I was very young. Right before graduating I bought some cows to add to this herd. I also do some work for a neighbor taking care of cattle, haying, and all other ranch work. Ranching is what I have always wanted to do and so far I think I am off to a great start for someone just out of college. My degree in Ag Business tought me a lot. As far as advice for students; take your time in college. Some experience pressure to graduate in four years but I believe you get more out of your college experience by taking lighter class loads and not putting so much pressure on yourself. Take as many classes in (and out) of your degree as you can. I think I took just about every Ag Econ class that was offered and they all offer something different to what I want to do with my life. Furthermore, be involved in clubs and organizations such as Ag Ambassadors, Food Science Club, Judging teams, etc. I got to travel to a lot of neat places and meet lots of great people. There are awesome networking opportunities available to you. Get to know the office staff like Kelly, Anne, and even Dean Galey. They really do care about you and the better they know you as a person the better they can help you when you need it.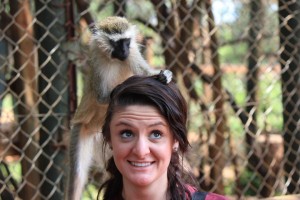 Jasper Fitzgerald
August 2013
After graduation I moved back to my favorite place in the world, Carbon County, MT where I accepted a position with Town and Country Supply Association at their Edgar location as a sales agronomist. I had previously interned with the company during the summer of 2012 and it was an easy transition to make into full time employment. It was also a great fit because my daily commute is a mere 3 miles, unheard of around here where most people work in the Billings area 30 miles away. Outside of my real job, the opportunity to be able to work on our own farming operation is an enormous blessing. Being a young couple starting out a life based in ag is not easy. I feel especially blessed to be living and working so close to both my own and my fiancé's families. They all provide unconditional love and support to us as we work towards running our own farm.
My biggest piece of advice to current students would be to explore and explore fearlessly. Explore anything that interests you, whether it is a class outside your major, an internship opportunity, studying abroad, talking to someone new, whatever it is it might be the key to your future. My entire life would be immensely different if I hadn't explored different majors, new extracurricular opportunities, other cultures. I had no idea I would find plant sciences interesting enough to minor in it (I flat refused to participate in agronomy during high school FFA) until I took Intro to Agroecology. You can never know what spark might ignite a passion.
The most memorable ag event I participated in during my time at UW was my trip to Kenya with Dr. David Wilson. I had dreamed of going to Kenya since I was a little girl and when my opportunity to explore came about I did everything I could to seize it. The College of Ag and Natural Resources was also a huge help in making this trip possible for me. It was truly the trip of a lifetime, learning about Kenyan agriculture, local customs, and the beautiful landscapes. I still get a ridiculous smile on my face any time I think of that trip.
Living and working in an agricultural setting makes it very easy to continue to be an ambassador for agriculture. During the winter months a great deal of my time is spent at conferences learning how to better support and promote this industry. Being involved in organizations such as American Agri-Women, Young Famers and Ranchers, and being a part of the cooperative system helps to strengthen the voice of individual agriculturalists, making their message much louder. I love to participate in trade shows and just chat with people about the importance of agriculture. As ag folks, we make the world go round, that's something to be proud of!
If asked during my freshman or sophomore year of college where I would end up, I'm sure back in Montana would have been the last place I'd have picked. I couldn't be more satisfied with where my life has taken me, and the contributions that UW made to that journey.
Looking towards the future I am excited to see my fiancé and me working towards improving and increasing our farming operation. We have a unique opportunity as young adults pursuing a life in agriculture to make a huge impact on the world. I am very excited to continue to educate, advocate, and celebrate agriculture in whatever career or endeavor life brings to me. Thanks to UW and the Ag Ambassador Program for giving me the tools I needed to become a successful "grownup" in today's rough and tumble world.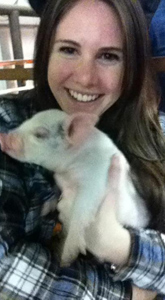 Kassie Ford
August 2013
I'm Kassie Ford, a retired UW College of Agriculture Ambassador, past President of the UW Block and Bridle Club, and graduate from the University's Animal Science Program. I was born and raised in Gillette, Wyoming and became infatuated with animals and agriculture at a very young age. I decided that I wanted to go to veterinarian school in 7th grade and strived towards that goal for a very long time. During my college career, I discovered that I had a crazy passion for pigs! I loved working with them, learning about them, and raising them! I decided that maybe vet school wasn't what I wanted, which was a hard realization to accept. It was hard to tell my parents that I didn't want to be a vet anymore but I wanted to be a pig farmer! Thankfully they told me that they supported my decision and that as long as I was happy, they were happy, too! So my senior year of college I applied for a couple internships with swine producers. I received an interview from Murphy Brown in North Carolina and ended up getting the position. I drove across the nation right after graduation and started my internship! It was an absolutely amazing experience! Being so far from home was hard but I loved learning and being surrounded by pigs! I was in hog heaven! I enjoyed my internship so much that I asked my boss about possibilities of staying. I was told to apply for the company's management trainee program and ended up getting the job! I drove back to Wyoming for a week to pack the rest of my stuff and then drove back to North Carolina! Talk about a crazy adventure (and A LOT of driving)! I never in a million years thought I would be living and loving anywhere but Wyoming but here I am! I have the opportunity to be managing my own sow farm within the next year! I still plan on moving back to Wyoming eventually and starting my own swine operation, but I am ready to get all the experience and education that I can before I do that.
If I were able to give any piece of advice it would be to take chances and do what you love! Go outside your comfort zone- who knows, you might end of loving it. Don't be afraid to embrace change especially when it comes to your goals and aspirations! Even though I may not be a vet or even want to be a vet anymore, I am still doing what I love! I'm surrounded by animals and agriculture and that's what's important! I miss Wyoming and family and friends, but right now I'm loving the journey my life has taken me on and I'm excited to see where the wind will blow me from here!
If you are a past Ag Ambassador and would like to be included on this page please e-mail: mlinke1@uwyo.edu