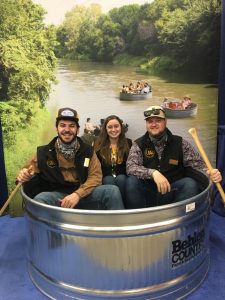 Over this winter break I had the opportunity to go to the National Western Stock Show in Denver for the first time as an internship with the University of Wyoming along with the College of Agriculture and Natural Resources.
As part of this internship myself along with several other interns stood at a booth in the trade show to promote the University of Wyoming and talk to people from all walks of life about the University. I spent most of my time with interns Braxton Crofts, Jared Marquardt, and Mackenzie Holmberg.
I already know Mackenzie very well and I never imagined how close I would grow to the other two boys in the short ten days.
Going into this internship I knew I would have to get out of my comfort zone to talk to many different people from all sorts of backgrounds. I viewed this internship as just a job that I needed to get done, collect my money, gain some experience, and move on with my life. I was proved so very wrong. This internship turned into some of the best ten days of my life.
Living in Denver was an interesting experience coming from the little town of Lusk, Wyoming. I know now that I don't ever want to live in Denver full time but for a short period it wasn't too bad. They have so much to do there. One night we didn't eat dinner until 10:30 at night at this nice wing place. Not many places to eat that late at night.
I learned a lot during this experience at the NWSS and many of those things were about myself. I learned that I love talking to people, I like to learn about them as well as tell them about the University of Wyoming. I discovered I enjoy walking around the trade show and learning about the people behind the booths, after being a person in the booth I have a new appreciation for those running booths. One thing I already knew about myself but had reaffirmed by this internship was that I love photography, and I love to photograph rodeos and livestock.
The biggest thing I learned from this internship is that sometimes life will surprise you. I thought I would just do this job and move on. But now, I found a family within the people I worked with.